Midwest College Showcase
The 2021 Midwest College Showcase tournament is an invitational showcase for young men and women soccer players who want to play at the college level. All who participate will demonstrate their talents and abilities to men's and women's college coaches from across the Midwest and beyond. More than 1000 collegiate coaches from Divisions I, II, III, NAIA, and NJCAA are invited to scout players.
This College Showcase is designed by College Coaches for College Coaches and is expected to be one of the finest collegiate showcase tournaments in the USA.
The 2020 SHOWCASE KC will welcome all boys and girls competitive travel teams ages U-13 through U-19 and provide those teams with a three-game guarantee.
In addition, the Showcase will host an individual Combine for players to gain additional exposure in front of college staff.
TOURNAMENT KEY BENEFITS
Beautiful World Class Facilities at GARMIN Olathe Soccer Complex
Team Friendly – great restaurants and hotels onsite
We work hard on bracketing teams, every game is competitive
Online Registration and text message score updates
Three [3] Games [Friday/Saturday/Sunday]
Night Games Played Under Lights
Same Coach – Multiple Teams? No Problem
Preferred Hotel Rates & Amenities with GCI Team Travel
Different levels of Competition (Gold, Silver, Bronze)
Expected 250+ College Coaches and Staff in attendance
Diverse competition from all over the Midwest (region II & III)
Scheduling requests are offered
Enjoy Free Parking
Excellent experienced Referees
Heartland Soccer has a 40+ year history of running top class events
Playing Formats:
3 game showcase format, no finals
Cost:
$775 for U-13 to U-14 (11 v 11) teams
$995 for U-15 to U-19 (11 v 11) teams
Midwest College Showcase COMBINE
In addition to the SHOWCASE games, players have the opportunity to attend the SHOWCASE KC Combine.
The Combine will be held at the GARMIN Olathe Soccer Complex on Friday prior to the first games. The Combine allows for players to be COACHED & EVALUATED by multiple coaches in a 2 hour session. This provides a 2-way evaluation process. College coaches get to work with the players in practice type situations and not just sit on the sideline and watch them perform.
Players get the direct experience of working with College Coaches and Staff.
Player Combine Details
March 5, 2021
3:45 – 5:30 pm
Cost: $50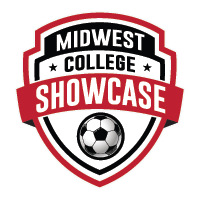 Midwest College Showcase
GARMIN Olathe Soccer Complex
All Games on Turf!
March 5th – 7th, 2021
Registration Deadline:
February 8th, 2021